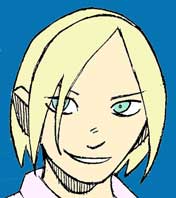 Ajay's dream girl, Arissa is smart, witty, and beautiful. Currently dating Brad, Arissa doesn't have much love for Ajay. In fact, she really can't stand him, much to his dismay.
Home | About | Bios | Comics | Links | Forums

All images and content Copyright 2005 by Copeland, Frazier, and Morrone unless otherwise indicated. Unauthorized use, duplication, and/or distribution of any and all content on this website constitutes an infringement of all applicable copyright laws. Besides, it's in bad taste.