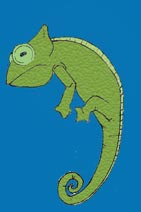 Logan is Ajay's pet chameleon. He doesn't talk, fly, or do tricks. He just kinda sits there, being a chameleon.
Captain has taken quite a shine to him, however.
Home | About | Bios | Comics | Links | Forums

All images and content Copyright 2005 by Copeland, Frazier, and Morrone unless otherwise indicated. Unauthorized use, duplication, and/or distribution of any and all content on this website constitutes an infringement of all applicable copyright laws. Besides, it's in bad taste.